WE'LL GET THE INVADERS OUT OF YOUR HOME AND KEEP THEM OUT
When rodents, squirrels and other vermin invade your home, they are more than an inconvenience. These pests chew through wires, eat drywall, tear insulation and leave droppings behind.
If you experience recurring problems with mice, squirrels, or other rodents getting into your house, a permanent (and highly recommended) solution is available from the experts at EcoSchield. Since rodents can squeeze into the tiniest of places, older home structures often have many gaps that rodents find very attractive, and this is how they enter your home.
All of our branches cover the following pests under our exclusion service: mice, squirrels, rats and depending on your location, the following wildlife may also be included such as birds, bats, opossums, raccoons, etc. Please call our office for details.
Our Three Steps to Exclude Pests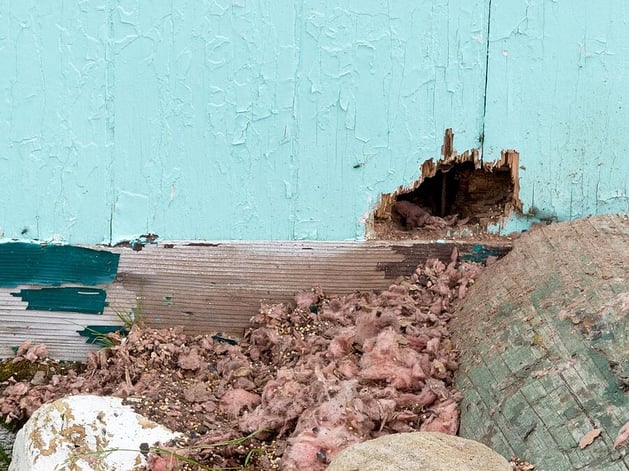 Step 1: We will first inspect your home to properly identify the entry points from the top of the roof
to the bottom of the foundation
Step 2: We will strategically tailor a solution to eliminate existing pests and to keep unwanted pests out of your home in the future
Step 3: We will then professionally seal up these areas:
Roof returns

Plumbing vents

Dryer vents

Crawlspace vents

Crawlspace pipes

Crawlspace door

Gable vents

Gutters

Soffits

Siding

Garage doors

Other holes and cracks
Guaranteed Satisfaction!
Ecoshield exclusion services are an integral part of our pest management programs. This service provides peace of mind that rodents and pests will be physically prevented from entering the interior space of your home. Additionally, by sealing interior gaps or holes that lead into wall/cabinetry voids, rodents will be prevented from utilizing them as living space. Sealing gaps and crevices will also prevent rodents and pests such as cockroaches, rats or mice from easily traveling from one area of your home to another without being seen. Exclusion services will aid in the full control and effectiveness of your rodent and pest control program.
Our exclusion service is GUARANTEED forever with an annual renewal!
• If pests return to the areas we have sealed up, we will fix that area at no cost to you, GUARANTEED
• No more contractors that come one time and are never heard from again
• This gives you peace of mind that your health and property will be protected
Give us a call today for a Free No-Obligation Quote