PROTECT YOUR GREATEST INVESTMENT FROM TERMITES
Termites can be the most destructive pest to houses, especially if they are not detected early on. If left unchecked, they can cause extensive damage and, even more so, headaches for the homeowners when it comes to getting rid of them. Often, termite damage is unseen behind walls, and ceilings and the average cost of repairs typically cost between $3000 and $8000, depending on the extent of the damage.

Since monitoring for termites can be difficult and very time-consuming for homeowners to do on their own, Ecoshield offers our exclusive Shield Termite Program.

The Shield Termite Program is designed to monitor for termite activity near the home. After a thorough inspection of your property, our monitors are installed 15 feet apart for maximum protection. After each annual inspection, we provide a detailed inspection report for the homeowner.
The goal of the Shield Termite program is to monitor and detect termites continuously, so they can be treated early on to protect your greatest investment. If we find active termite infestations, we offer spot treatments to resolve the problem at your home quickly.
The goal of the Shield Termite program is to continuously monitor and detect termites, so they can be treated early on to protect your greatest investment. If we find active termite infestations we offer spot treatments to quickly resolve the problem at your home.

Give us a call today or fill out the form on this page for a Free No-Obligation Quote.
Termite Facts: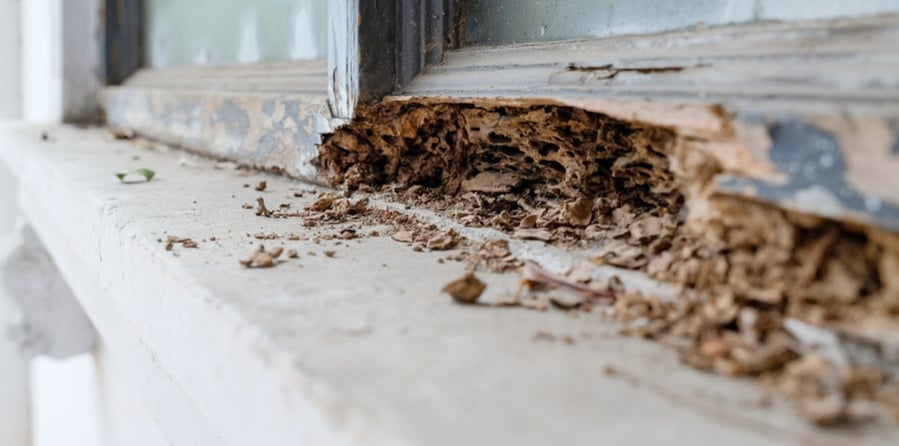 Each year, termites are found in almost every state and can enter your home as follows:
Termites can fit through a crack as little as 1/32nd of an inch

They enter through cracks in foundations, expansion joints, plumbing pipes, and wood to ground contact

They create mud tubes when above ground for protection
Termites cost you money!
The average cost of termite treatments and damage repairs is between $3,000 and $8,000

Termites cause $5 billion in damage each year

Termites damage more homes than fires, floods and tornadoes combined

What are the odds?

Termites infest 1 in 20 homes each year in the US

Your home is 10 times more likely to be damaged by termites than fire

All home foundation and construction types are at risk-even brick houses




The shield termite program provides Guaranteed Satisfaction!
Our technicians will thoroughly inspect all areas of the house, including the attic, interior, exterior, crawlspace, and basement.

While many pest control companies only install monitors at the four corners of your home, we install our monitors every 15 feet for complete termite protection!

Proven results! While tunneling in search of a food source, termites find our bait station, the termites feed, then leave a pheromone trail behind them as they travel back to the colony. Upon returning to the colony, they share the bait with others and recruit more termites to follow the pheromone trail back to the source.

The monitors invite termites in to feed, and there is enough bait in the ground to eliminate the entire colony.

Termites prefer the bait over the wood in your house.

Our monitors are low profile, so they sit at the soil level, avoiding your lawnmower.

No unwanted drilling into your concrete porch or patio and no unwanted trenching in your sod or flowerbed

Quick-lock cap to keep out kids and pets

We'll check the monitors every year.

Stations made in the USA




Give EcoShield Pest Solutions a call today for a Free No-Obligation Quote.